Smoking Dust Cognac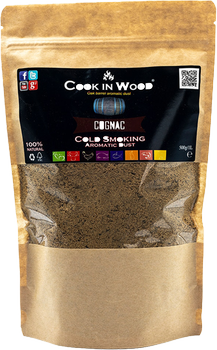 COOK IN WOOD smoked flour from old oak barrels is the ideal product for cold smoking
It is a completely natural product made from oak barrels used for ageing the most famous wines and spirits from Spain, England, Portugal, and France. By using a proprietary process, the main culinary characteristics such as flavor and aroma are retained.
COOK IN WOOD cold smokingis ideal for all types of food: meat, sausages, fish, clams, cheese, pizza, fruit, etc.
The smoking flour
...
It is a completely natural product made from oak barrels used for ageing the most famous wines and spirits from Spain, England, Portugal, and France. By using a proprietary process, the main culinary characteristics such as flavor and aroma are retained.
COOK IN WOOD cold smokingis ideal for all types of food: meat, sausages, fish, clams, cheese, pizza, fruit, etc.
The smoking flour is perfectly matched to the
Hexagon cold smoking snail
available from us
The recommended temperature for cold smoking food is between 20 and 30° C (68-86° F).
Quantity: 500 gr
Version: Cognac
CHF 9.90
incl. VAT
Shipping costs: CHF 8.90
Easy to use
Fill the smoke generator with approx. 100-120g (3½ - 4¼ oz.) smoke powder. Make sure that the powder on the upper part is even and not too firmly pressed on.
Light the candle and place it where it is indicated.
As soon as the smoke starts, you can remove the tea light. The wood powder burns for about 10 hours.
Important:
The smoke generator must be clean. Remove dirt with warm water and soap, then rinse well and dry. Store the powder in a cool, dry place.
If the powder does not burn, dry it in the microwave for about 30 seconds. Attention: only fill the powder, do not put the metal smoke generator into the microwave.
Place the smoking snail in a closed room, but with some airflow. Make sure that there is enough airflow to get as much smoke as possible.
For the optimal cold smoking process, the food must be absolutely dry.
Technical data
Filling quantity 500 g
Cognac flavour
Videos
Passend zu Smoking Dust Cognac
Smoking snail for cold smoking
The special COOK IN WOOD smoking snail is the ideal product for cold smoking