Cast iron pot / DutchOven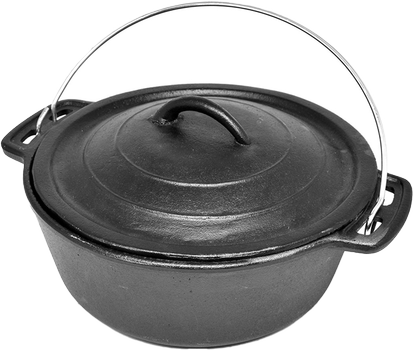 The cast iron pot can be used for cooking, slow cooking and roasting.


The cast iron cooking pot, also called Durch Oven, is excellent for the preparation of all kinds of stews, such as goulash, soups, or braised meat, pulled pork, roulades and layered meat.
You can even bake bread with it - an all-rounder!
The pot can be placed directly on the charcoal or on the grid. It is very robust and tolerates very high temperatures.
Version: 27 x 13 cm
CHF 69.00
incl. VAT
Shipping costs: CHF 8.90
Technical data
Total height with lid: 13.0 cm
Total width with handle : 29.3 cm
Diameter 27 cm
Easy to use
Cleaning and caring for the cast iron pot is very easy. After use, simply clean the pot with hot water (no washing-up liquid) and a brush and dry it, then simply rub the pan with a little vegetable oil. Cast iron pans and pots must never be cleaned in the dishwasher.
Videos
Passend zu Cast iron pot / DutchOven

Cast grate tongs / cast pot tongs
Pliers for picking up the cast iron grate, or the casting pot