Cape Herb Rub Korean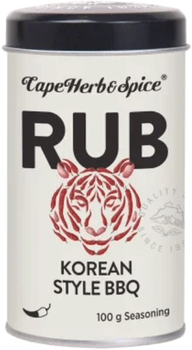 This rub is a real treat for all lovers of Korean cuisine


Whether on juicy ribs or tender pork belly, this rub gives every dish an incomparable flavour note. The perfect interplay of different spices and flavours ensures a unique taste experience. Anyone who loves the Korean world of taste will be thrilled by this rub.
Quantity: 100 gr
Version: Korean
incl. VAT
Shipping costs: CHF 8.90
Ingredients
Sea salt (31%)
Roasted onions
Brown sugar
Roasted garlic flakes
Ground ginger
Red pepper flakes
Roasted sesame seeds
Black sesame seeds
Acidity regulator: Sodium acetate,
Chilli flakes (3%)
Cayenne pepper
Black peppercorns
Releasing agent: silicon dioxide
May contain traces of soy, gluten, celery, mustard, sulphite, sesame.