Cape Herb Rub Argentinian Style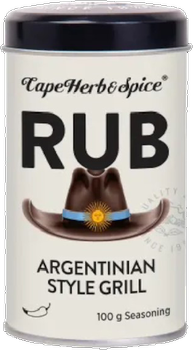 This seasoning salt combines the best ingredients of Argentine cuisine to give your dishes an authentic South American touch.


Cape Herb Rub Argentinian Style is inspired by the traditional flavours of Argentinian cuisine. The combination of cumin, paprika and garlic is reminiscent of the country's passionate food culture. This seasoning salt is ideal for a variety of dishes such as meat, poultry, fish, vegetables and much more. Use it as a marinade, for seasoning or as a sprinkle seasoning.
Quantity: 100 gr
Version: Rub
incl. VAT
Shipping costs: CHF 8.90
Ingredients
Sea salt (61%)
Roasted garlic flakes
Onion flakes
Paprika flakes
Paprika powder
Ground cumin
Chilli flakes (2%)
Dried oregano
Dried parsley
Dried coriander leaves
Orange extract
May contain traces of soy, gluten, celery, mustard, sulphite, sesame.