Barbecue von Steven Raichlen in German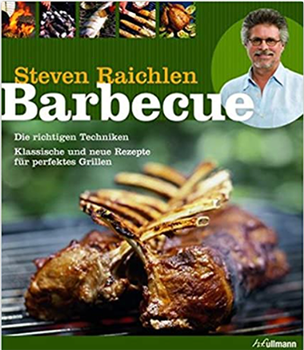 The barbecue bible for the right techniques with classic and new recipes for perfect barbecuing
Anyone who really wants to learn about barbecue can confidently turn to Steven Raichlen: The more than 100 versatile and varied barbecue recipes come from all over the world and range from American classics such as barbecue beef brisket Texas style to Persian shish kebabs and Japanese yakitori skewers to lamb chops à la Szechuan.
For those who prefer vegetarian variations, there is a
...
Anyone who really wants to learn about barbecue can confidently turn to Steven Raichlen: The more than 100 versatile and varied barbecue recipes come from all over the world and range from American classics such as barbecue beef brisket Texas style to Persian shish kebabs and Japanese yakitori skewers to lamb chops à la Szechuan.
For those who prefer vegetarian variations, there is a wide range of tasty recipes for preparing vegetables and mushrooms. The basic recipes for spice mixtures, sauces, dips and marinades, which are a must for every barbecue party, will also make the hearts of all barbecue fans beat faster.
With its clear step-by-step instructions, background information and numerous tips on barbecuing, this practical handbook leaves no questions unanswered.
Quantity: 504 Seiten
Version: 130 Rezepte
incl. VAT
Shipping costs: CHF 8.90