Argentine grill grate L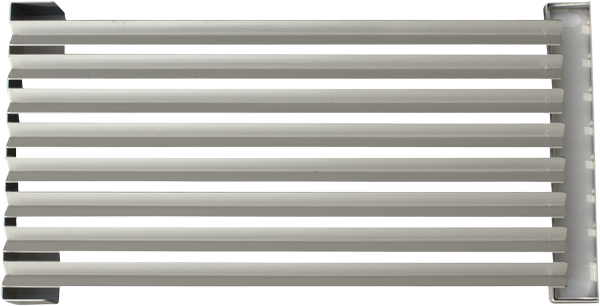 The new grill grate with V slats and grease drip tray ensures perfect heat distribution and is gentle on the grill and food
As a grill professional you know the problem: The grill is heated, the juicy burgers are shaped, the grill meat is ready - the grilling can start. But most of the time the problems also start: The fat drips down, the flames jump up and the so-called flare-ups ensure that even more fat drips down and triggers flames again - the barbecue food burns.

No more flare-ups:
The new Argentine
...
As a grill professional you know the problem: The grill is heated, the juicy burgers are shaped, the grill meat is ready - the grilling can start. But most of the time the problems also start: The fat drips down, the flames jump up and the so-called flare-ups ensure that even more fat drips down and triggers flames again - the barbecue food burns.
No more flare-ups:
The new Argentine grill grate with the special V-grooves and 10% inclination. The inclination of 10 % lets fat and liquid drip into the removable collecting bowl, instead of into the grill - and stops so the cause of the flame formation. The grill grate is suitable outstanding, not only for everything which water, or fat delivers.
It also leaves the popular BBQ grill pattern (branding) on the food.
Not suitable for BBQ models L Plus and L Pro
Version: 45,8 x 29,5 cm
incl. VAT
Shipping costs: CHF 15.00
Technical data
Material: stainless steel
Removable grease drip tray
V-profiles at an angle of 10 degrees, for draining off grease
Dimensions: 45.8x29.5cm

Not suitable for BBQ models L Plus and L Pro
Easy to use
The Argentinian grill grate is simply placed on the grill instead of the normal grill grate. It is made of 100% stainless steel. The fat drip tray can be easily removed for cleaning. You can simply dispose of the grill fat in an environmentally friendly way or use it for delicious sauces.
Simply clean the Argentine grill grate with the BBQ Master Brass Grill Brush, or remove the coarsest dirt and simply clean it in the dishwasher in the ECO Economy Program.
Videos