Non-stick Mesh Barbecue Bags Set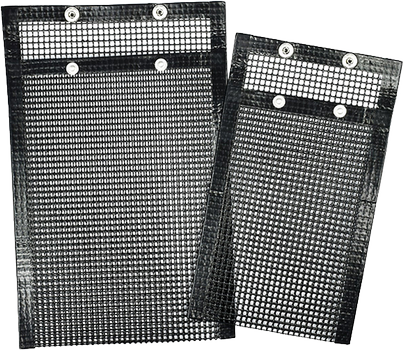 Set of two barbecue bags. The food stays safely in the bag during grilling and never sticks to the grill grate again
The snaps ensure that the food stays in the bag and does not fall between the barbecue grates.

The non-stick material makes it easy to turn while cooking. You don't have to miss the typical barbecue taste, thanks to the mesh design, the food absorbs all the flavour of the barbecue.

The non-stick mesh barbecue bags are made of heat-resistant, technologically advanced
...
The snaps ensure that the food stays in the bag and does not fall between the barbecue grates.

The non-stick material makes it easy to turn while cooking. You don't have to miss the typical barbecue taste, thanks to the mesh design, the food absorbs all the flavour of the barbecue.

The non-stick mesh barbecue bags are made of heat-resistant, technologically advanced materials and can be safely heated up to 260 degrees.
CHF 24.90
incl. VAT
Shipping costs: CHF 8.90
Technical data
Dimensions large barbecue bag: 30 x 22 cm
Dimensions small barbecue bag: 27 x 14 cm
Heat resistant up to 260 degrees
Videos